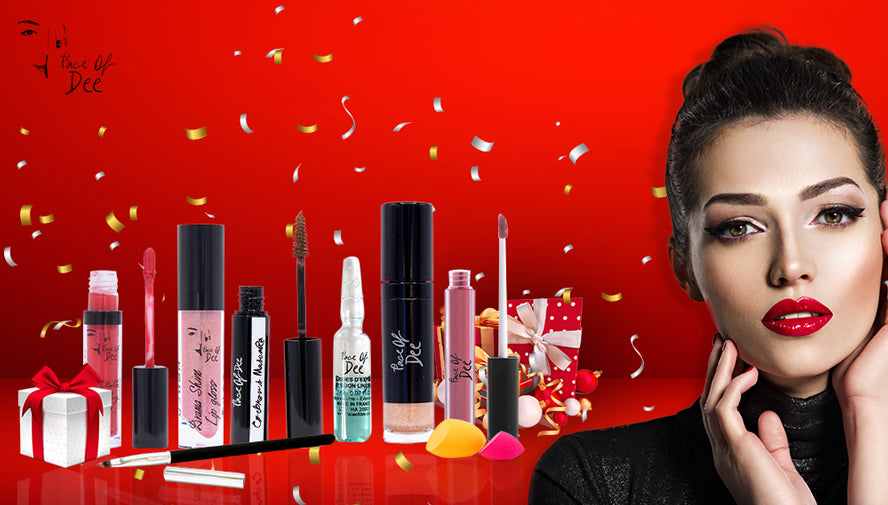 Make her feel special with these 10 most desired beauty gifts.
Well, a beauty gift never disappoints! Shopping for a make-up lover sometimes could be too overwhelming? Choosing the perfect gift for a true beauty lover? A person who already has an overflowing vanity with every makeup palette imaginable and almost every lipstick shade available?
There's absolutely that one person who can never get enough of beauty-related things. They literally obsess over all the latest haircare launches, own 20 different nude lipstick shades, and have a skincare drawer filled to the brim with serums, masks, and lotions.
With the festive season around the corner, it's the perfect time to renew the beauty routine with new products. 
When it comes to gifting your mother, sister, wife, or any other important woman in your life, the finest gifts for women are beauty gifts, which are sure to make any woman smile. So, who doesn't adore a vibrantly colored eyeshadow palette, a lovely lipstick, or a head-turning perfume?
You're wondering what's the best thing about beauty gifts? There's a gift-ready set for everything, so you don't have to stick to just one thing.
We've got the most desired make-up gifts guide for you to make her feel special. 
1. Eye and brow Mascara
Go bold and sculpted with your brow! Mascara is used to tame and fill in your brows. The gel formula hugs your eyebrows and keeps them intact in place. Make them look fuller and natural. 
Who doesn't want to look effortlessly attractive this festive season? Gift your loved one or girlfriend an eyebrow mascara or eye mascara for having a perfectly flawless eye makeup look. Compliment your face by shaping your eyebrows. To be honest, without mascara, women's eyes appear bald.
And no matter what kind of lady you are, eyebrow mascara is an absolute must-have in your makeup bag. Your girl's personality and looks are defined by it. Go ahead and gift the best mascara available. 
2. Beauty blender
Ace your base with the perfect beauty blender! Applying makeup on your face has changed dramatically over time with various make-up tools available. Nobody prefers using hands or fingers anymore as it's quite unhygienic. Beauty blenders or makeup sponges have come to the rescue to have that perfect foundation base.
Beauty Blenders have made makeup applications easier than ever before. They make sure your foundation base is perfectly blended in the skin giving you a flawless look. Makeup sponge is a makeup essential for any woman. 
So, who wouldn't love a beauty blender in a gift! 
3. Lipstick
The right shade of lipstick fixes everything! All you need is lipstick which stays with you throughout the day and night. Whether you're going to work, having lunch or dinner dates, or enjoying a late-night party, Lipstick is the perfect companion for women. Liquid lipsticks are just perfect to give to a beauty lover.
A red hot shade or a nude shade, every woman obsesses over liquid matte lipsticks that are long-lasting, transfer-proof, and highly pigmented. Liquid matte lipsticks are the real deal for any girl. Matte lipsticks are loved as just one dash of it on the lip goes a long way! Look classy and gorgeous with the perfect pout! 
4. Eyeshadow Palette
Looking fully dressed up without eyeshadow is impossible. Any makeup enthusiast will love dressing up her eyelids with an assortment of makeup eyeshadow products is the most fun way to brighten up the dull days.
Liquid eyeshadows come with a sleek, these babies are easy to play around your eyes. It's perfect for a bold and pop makeup look. Ask your partner to create the most mesmerizing eye makeup looks for date nights, festivities, or parties. Surprise her with the best liquid eyeshadow palette. 
5. Perfume
You can never go wrong with gifting perfume, just make sure the type of fragrance your friend prefers. A signature perfume can say it all. It's the distinctive aroma that lingers around after you've left the room.
The overwhelming number of options just seems to leave you bewildered when it comes to perfumes. Choose from the right category of perfumes including, fresh fragrances, earthy and woody fragrances, warm and spicy fragrances, or floral fragrances. There's a type for all. 
A bottle of perfume could ignite the flame between you and her. Give her her favorite perfume as a gift.
6. Makeup Brushes
Makeup brushes constitute a whole new universe in themselves. What's more overwhelming is trying to figure out the necessary types of makeup brushes, especially with the plethora of options available out there. Makeup brushes set is a great gift option for any beauty lover. 
7. Highlighter
Looking lit is undoubtedly the highlight this season. The subtle shimmer can instantly turn you into a diva and allow you to get away with little or no makeup. The right highlighter can help you achieve a natural-looking sheen. So, are you ready to show off your radiance? Give her a highlighter palette and see how she glows.
8. Face masks 
It is the season to attend a gazillion weddings and parties. Her face needs external help to cope with the relentless late nights. By applying face masks your makeup will look smoother on the skin and remove the dead layers of skin. 
Sure, you have a great work-life balance but what about your skin? It's always crying out for some hydration. Gift her sheet masks or any kind of face mask to show you actually care.
9. Shower gel and body lotions
Pamper her skin with the best body lotions and shower gels. Let her have a luxurious shower experience. Never underestimate the power of a fabulous shower gel as a gift to your lover.
Make the right pick, and you will end up with super soft and squeaky clean skin. This winter make her feel special with the nourishment and moisturization her skin deserves. Put a smile on her face by gifting the body care range. 
10. Nail enamel set
How better to keep the holiday spirit alive than with stylish nails. Gift the women in your life nail paints from the plethora of ranges available from the classic collection or if sophisticated nudes don't catch her fancy, there are sassy bright and pastels to boot.
Matte nail paint doesn't make you happy? Well, you can choose between glitzy chromes, metallic, or glitter instead. Or just get a customized nail enamel set to gift her. 
 These are the beauty gifts any makeup or skincare lover will totally obsess over. So, what are you thinking? Order now! Make her feel special.