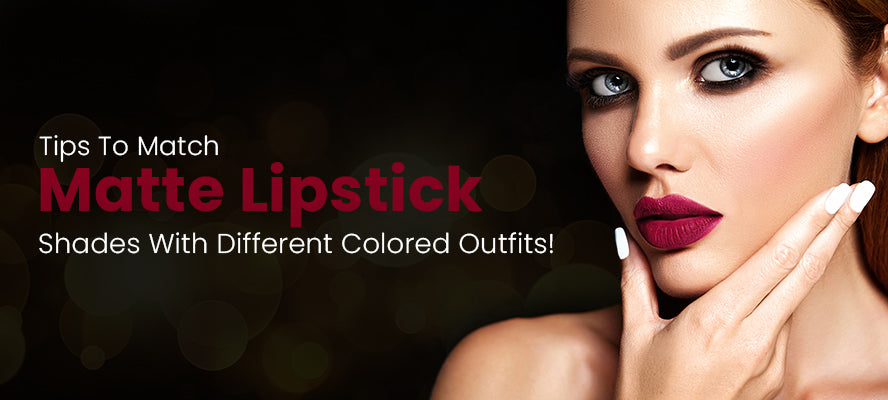 Tips To Match Matte Lipstick Shades With Different Colored Outfits!
Picking out the perfect lipstick shade which would complement the outfit? Seems almost impossible right? The confusion doubles if you are a lipstick hoarder and have a ton of lipsticks in different textures and shades in your makeup vanity. Sigh!
Finding the perfect lipstick shade can totally elevate your entire look.
When it comes to long-lasting matte lipstick we just can't ignore the amazing benefits it has to offer. It is comfortable to wear which dries matte with the intense colour payoff and transfer-proof and waterproof properties. Find the best liquid matte lipstick with vibrant shades which suit best with your outfit. 
First things first, Find a lipstick that complements your skin tone. Some lipstick colours will make your face stand out, while others will wash you out. I recommend first determining which colours best suit your face's unique tone and features. Some lipsticks look good on all skin tones, while others accentuate certain skin tones more than others. Have someone assist you in finding a colour that best suits your complexion the next time you're in a makeup store!
Match your lipstick with your outfit
Once you have an idea of the shades that work best with your skin tone, you can start thinking about which colours will complement the outfit you're wearing that day. There are numerous theories about how to match your lipstick to your shirt or dress. If you're wearing red or pink, some makeup artists recommend matching your lipstick to your outfit, while others recommend complementary shades. I believe that lipstick should be in the same colour family as your outfit but not exactly match, creating a sleek and put-together monochromatic look.
Another pro tip is to let your makeup be opposite of your clothing. So if you have a neutral or muted outfit you can play along with more with your makeup going for darker and bolder shades. Balancing out your makeup and outfit are the key to the best looks. 
Check out these lipstick shades and outfit pairing:
1.  White Outfit- Everything
Neutrals like white, pale nudes, or ivory are the calmest and the most versatile colours and the best part about white is you have a little more freedom to play around with your makeup. You either go with a bold red matte lipstick to draw attention or opt for a stunning maroon colour. Any bold colour liquid matte lipstick for a bold and artsy look. A nude or peach for an elegant, simple look. Style yourself in the shades which you feel more comfortable and confident in. Have the perfect pout with a liquid matte lipstick. 
2.  Red Outfit- Brown, peach or nude lipstick
At first glance, red may appear to be the most difficult colour to match with your makeup. Surprisingly, red goes well with the majority of lipstick colours! Brown or nude lips can keep the focus on your outfit if you want to keep it natural. Peach and pale pink lipsticks can help accentuate your face against the red if you look best in lighter-colored lipsticks. A red lip with a red outfit can be stunningly stylish if you want to go bold. (However, if you go the red-on-red route, make sure you match the bold reds as closely as possible.) Otherwise, stick to a soft nude or pink lip colour.
3.  Blue outfit- Pink lipstick
On the colour wheel, orange and blue are complementary colors, making them a perfect match! Orange lipstick or lipstick shades with hints of orange are ideal for a blue ensemble. Pink lipstick goes well with blue as well. A blue outfit with bare lips allows you to experiment with bold eyeshadow makeup.
4.  Green- Nude lipstick or Red Lipstick
Green is both intriguing and tricky color and you do not want to go wrong with it. The tint of lipstick totally depends on your particular choice of green colour. If you're wearing a dark green, such as emerald, a bold red liquid matte lipstick will look great with it, and if you're wearing a soft shade of green, soft colours like peach and nude waterproof matte liquid lipstick will look great with it.
5.  Yellow- Red lipstick.
Yellow is a very vibrant colour. The colour itself is extremely cheerful and bright, and the best way to wear yellow outfits is to pair them with equally vibrant colors such as hot pink and red lipstick. If you want to go all-in on a stunningly effervescent look, a red power lip in magenta, maroon, or fuchsia paired with a cheerful yellow dress is the way to go.
6.  Black- Hot Pink Lipstick or Red Lipstick
Best lipstick colour for a black outfit? It's impossible to go wrong with black; it's a timeless colour to wear. Because black is such a classic colour, any lipstick colour will look great with it. People usually pair it with reds, plums, and other dark colours, but the best way to rick in black is to pair it with vibrant colours like hot pink and orange to add a touch of playfulness to a serious look.
Go bold with a hot pink lipstick or try deep colours like plum or burgundy to look elegant and sophisticated.
When attempting to put together an entire look, it is easy to overthink or go overboard. It can be difficult to determine which colours go together and which do not at first. When it comes to creating a cohesive look, a variety of factors such as your skin tone, hair colour, accessories, and makeup and lipstick shades all come into play. Not only that, but some lipstick shades complement certain seasons better than others.
Learning how to coordinate an entire outfit of clothes, accessories, shoes, makeup, and even hair takes time, just like anything else. A simple swipe of lipstick, on the other hand, can instantly elevate your outfit and make you look polished and put-together, no matter where you're going.
Try out the different plethora of lipstick shades available, keeping these tips in mind, and have fun with your makeup to find out what works best for you. Buy liquid lipstick online and experiment with all the looks you've always wanted to explore.