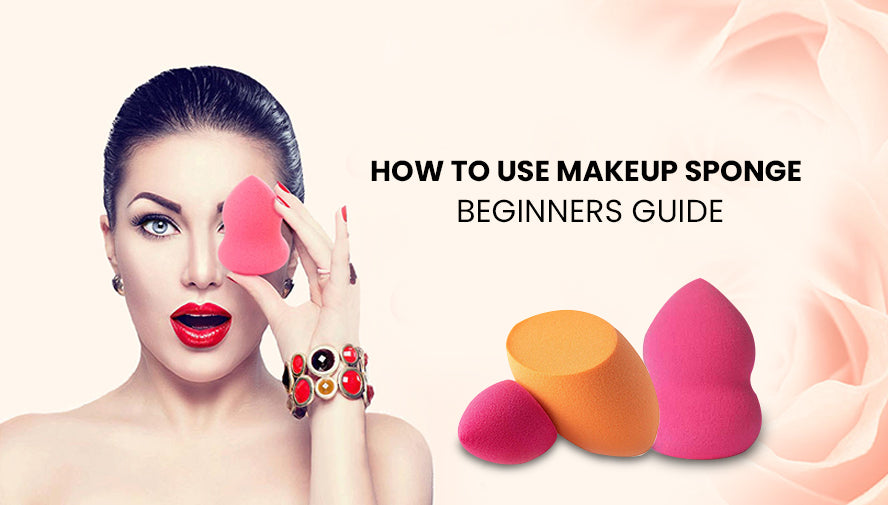 How to use makeup sponge: Beginners guide
Beauty cannot be expressed in words because it is an expression that emerges from within. Beauty cannot be defined unless one thinks beautifully. It is your own reflection of thoughts. So is believing in using various make-up tools.
A good makeup sponge is undoubtedly one of the most valuable beauty tools you can have in your makeup bag for something so simple.
Although you may believe it is only useful for applying liquid foundation, the truth is that you can use this makeup tool for a variety of important makeup steps, including applying face makeup such as BB cream or tinted moisturizer to more complex steps such as contouring and concealing.
A make-up sponge is basically designed to assist you in blending your makeup for a defined look and achieving a charismatic even charm on your face.
Why do we need a makeup blender?
We all want an even complexion all over our faces, but it can be difficult to achieve a flawless finished look. As a result, these makeup blenders come in handy, as they perfectly blend your makeup into the skin for an even look.
If your foundation didn't blend in well with your skin, you might have noticed someone noticing it. A makeup blender can assist you in resolving this issue and allowing the foundation to blend evenly into the skin.
It can make it appear natural while also providing an even finish. So, say goodbye to a cakey foundation that attracts attention and hello to a flawless appearance.
So, reconsider adding a makeup sponge for having a perfect base in your daily make-up routine.
Fascinated with all those makeup sponges, if we haven't started using it yet, then we surely need to start with it now.
Have you already used it once? Or it has become the normal part of our routine; none can deny the multiple benefits of it!
Join me as I note down a few things to take care of while using the makeup blender sponge set.
A little damp beauty blender helps amazingly to blend the make-up well.
Take a little amount of foundation on your hand or the make-up plate. (Hey! if you have been in habit of putting spots of foundation on your face then you can try something new now.)
Take a little foundation from your hand or the plate using the makeup sponge(a little damp) and start from the inner area of the face while working it towards the outer area.
Allow the sponge to work on the foundation for you, as per your need for foundation coverage.
To cover all the corners of the face, we can repeat the process using the makeup blender sponge and foundation.
Keep pushing the product on your face and neck until it gives an even covering.
With this short "how-to" guide for using the makeup blender sponge set, we also need to take note of these few things:
Using a little damp beauty blender would help wonderfully!
Do not take a lot of foundation at once; taking a little will help to save your foundation. Also, this will help you avoid cakey makeup!
Always start from the inner area of the face and end towards the sides of the face.
Always look for those smaller left-out spaces on your face and work on them for proper coverage.
Have you not used a makeup blender sponge set yet? Then you might not know the various possible benefits of using a makeup sponge.
Here are a few benefits of makeup blender sponge set
Sponges help us to get a proper finish wherein the foundation is spread evenly. Something that we all look up to when getting our makeup done.
Doesn't leave any make-up marks thus giving a smooth and finishing look.
Helps in spreading the product (taken in little quantity) evenly. Thus it also can help in saving products.
The beauty blender works well for the delicate areas near the eyes.
The makeup sponges fill the pores of the skin better than the brushes.
A wet makeup blender sponge helps in providing a natural look to the face.
Only one beauty blender can help with crème formulations along with the dry ones! Thus one beauty bender is all set to be used for simply everything.
As we know a makeup sponge can also be used for concealing and contouring. so, let's find out how and make our maker-up process easier.
How to use a makeup blender for applying concealer?
After you've applied your foundation base, you're ready to apply concealer. Dab your preferred concealer under your eyes and around your nose with a small spot on the sponge or an oval-shaped sponge, and gently blend it in with the small tip. Here, too, the same blending rules apply: Make sure to stipple rather than swipe.
How to contour with a makeup sponge?
For contouring with your makeup sponge, try using a cream contour or a liquid contour, a foundation that is 2 shades darker than your skin tone also works as a great contour.
Using a stippling motion is always advisable, gently dab and blend until you've achieved the desired effect.
If you have a makeup sponge with a flat side, you can easily create a definition with it. And, while it may be tempting to blend as you normally would, always dab, in short, light strokes until no harsh lines are visible.
Conclusion:
Though, you might find it a bit difficult to clean a makeup sponge as compared to a makeup brush. But cleaning your beauty sponge after each use is the best way to keep dust, dirt, and grime off of it.
You'll have the best chance of mastering that flawless finish every time if you keep your sponge clean and fresh.
But who cares even if we have to pull in a little more effort, in exchange for a natural-looking and product-saving makeup sponge! What do you think? Ace your base with a beauty blender now!